For Students -
学生の皆さんへ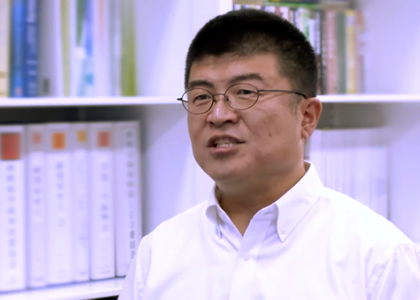 For Students
Structural materials are employed to stably retain the shape of a structure for a long time. However, materials could be damaged in some usage environments, and the apparent mechanical properties degrade every moment. Therefore, the lifetime of structural materials should be prolonged under wide ranges of temperatures, from very low temperatures to immediately below the melting point, environments (atmospheres), and heavy static and dynamic mechanical loads. The following three fundamental issues are the most important from a materials engineering viewpoint: elastic modulus, diffusion, and phase transformation (microstructure). These issues affect the lifetime of materials, sometimes independently and sometimes in conjunction with each other. Principles and theories about each issue have been discussed in depth for a long time and can be learned from many textbooks. However, from the viewpoint of materials development, these three fundamental issues remain a complex puzzle, and time-consuming trial and error is necessary to find a solution. Thus, our research laboratory not only analyzes and understands materials strength and high-temperature materials properties but also conducts research activities through daily trial and error to create new materials.
Our research laboratory can handle all of the following in-house: materials fabrication and synthesis (arc-melting, high-frequency melting, plasma melting, spark plasma sintering, environmentally-controlled ultrahigh-temperature heat treatment, etc.), materials evaluation (compression testing, tensile testing, bending testing, ultrahigh-temperature creep testing, hardness testing, nanoindentation, thermal expansion testing, thermo-gravimetric testing, etc.), materials analysis (differential thermal analysis, ultrasonic vibration analysis, X-ray diffraction analysis, scanning electron microscopy, transmission electron microscopy, etc.), and furthermore materials modeling and simulation (first-principle calculations and finite element calculations) (Refer to the equipment page). This gives undergraduate and graduate students the opportunity to polish the skills they are best at and to further accumulate new insight and experience, thus nurturing comprehensive capabilities in materials science and high-temperature materials studies. Furthermore, we focus on our mission, which is to develop structural materials that would be useful to society and to utilize structural materials in society. We collaborate closely with universities, public research organizations, government agencies, and private companies in Japan. We also collaborate with overseas universities and research organizations to promote social contribution while enhancing communication skills in an international environment.
We wish undergraduate and graduate students to understand the following. As outlined above, the fundamental philosophy of our research laboratory is to contribute to society through research activities and accomplishments that protect the environment and to be a foundation for global peace and the prosperity of humanity. We believe that writing academic papers, which will be global common assets, is as important as research activities and accomplishments. Therefore, we strongly recommend that undergraduate and graduate students author academic papers. Simply studying and researching in our lab are not enough; the research alone does not constitute an "accomplishment." Take the initiative in writing an academic paper once you get research results! We think that this is a social responsibility, even for a student, for someone affiliated with the materials engineering-related divisions of Tohoku University, with its rich history and tradition of excellence. Of course, there is no need to increase the number of papers for no good reason. Why not publish research results, as suitable and appropriate, in the form of academic papers, thus advancing studies in materials science and contributing to the development of science and technology in general?
Linguistic skills, including Japanese, are indispensable in writing academic papers. Logic in the written text is also very important. Please have solid basic skills in Japanese, English, and mathematics, in addition to field-specific expertise.
Professor Kyosuke Yoshimi
構造用材料は構造体の形状を長く安定して維持することを目的として用いられますが、使用環境下によって材料は損傷(ダメージ)を受け、見かけの機械的性質は時々刻々と劣化していきます。したがって、極低温から融点直下までの広い温度範囲と様々な環境(雰囲気)に対して、静的あるいは動的な厳しい力学的負荷の下で材料の長寿命化を考えなければなりません。
その場合、次の3つの基礎が材料学的には最も重要と考えます。
1つめは弾性率、2つめは拡散、そして3つめは相変態(ミクロ組織)です。
これらの問題は時として独立に、また時として連動しながら材料の寿命に影響を及ぼします。各々の原理・学理については長い歳月を通して深く議論され、多くの教科書の中で学ぶことができます。しかし、材料を開発する視点に立つとこれら3つの基礎は依然複雑なパズルのようであり、解を導き出すためには長い時間をかけた試行錯誤が必要です。そこで当研究室では、単に材料強度や高温物性の解析や理解にとどまることなく、新材料の創製を目標として日々試行錯誤を繰り返しながら研究活動を展開しています。
当研究室では、材料創製(アーク溶解、高周波溶解、プラズマ溶解、放電プラズマ焼結、雰囲気制御熱処理等)、材料評価(圧縮試験、引張試験、曲げ試験、高温クリープ試験、硬さ試験、ナノインデンテーション、熱膨張試験,熱重量試験等)、材料解析(示差熱解析、超音波振動解析、X線構造解析、走査型電子顕微鏡、透過型電子顕微鏡等)に加えて、材料理論(第一原理計算,有限要素計算)のすべてを研究室内で一貫して行うことができるようになっています。(装置紹介のページ参照)
学生・大学院生の皆さんにとっては、自ら得意とするところに徹底的に磨きをかけながら、さらに新しい知見・経験を積み重ねていく環境が整っており、材料強度学・高温材料学を通して材料科学の総合的な力を養うことができます。
それと同時に、当研究室は社会の役に立つ構造用材料の開発、また構造用材料を社会に役立てるという姿勢を明確に打ち出しています。国内の大学や公的研究機関、官庁、民間企業とも密接に連携しています。
海外の大学、研究機関とも連携しており、コミュニケーション能力、国際力を養いながら社会貢献を推進します。
学生・大学院生の皆さんには、是非とも理解していただきたいことがあります。
当研究室では上述のように、研究活動と研究成果をもって、地球環境を守り世界平和と人類繁栄の礎となるべく、社会に貢献することを基本理念としています。ここでいう研究活動と研究成果とは、広く世界の共通財産となるべく学術論文が最も重要だと考えています。そのため、学生・大学院生の皆さんにも学術論文の執筆を強く推奨しています。
研究室で単に勉強し研究するだけでは研究活動として不完全で、研究成果が上がったとは言えません。
研究結果が出たら積極的に学術論文を執筆しましょう!
そのことが、たとえ学生であっても、歴史と伝統ある東北大学の材料工学分野に所属する者の社会的責務だと考えています。もちろん、むやみに論文の数を増やすようなことをする必要ありません。適宜、適切に研究結果をまとめて学術論文という形で公表し、科学技術の発展と学問の進歩に貢献しようではありませんか!
学術論文の執筆には日本語を含む語学力が不可欠です。文章の論理性も極めて重要です。
専門知識だけでなく、国語・数学・英語といった基礎学力をしっかりと身につけてください。
教授 吉見 享祐