Graduate School of Engineering
Department of Materials Processing
Physical Metallurgy and Physicochemistry of Biomolecular and Biomaterial Systems
Biomedical Materials (Prof. Narushima)
Faculty and Staff
Professor

Assistant Professor
Research Title
Calcium phosphate coating on titanium materials for biomedical applications
Surface modification of titanium materials using dry and wet processes
Microstructural control of titanium materials
Precipitate control of biomedical Co-Cr-Mo alloys
In vivo corrosion behavior of metallic biomaterials and their allergic reaction
Research Topics
"Development of new process and its evaluation for biomedical materials basis of physical chemistry"
The proportion of aged people in the population is rapidly growing all over the world. It is predicted that the numbers of patients suffering due to injuries sustained during falls and deterioration of body functions will increase in this super-aged society. In order to improve the QOL (quality of life) of these patients, dental and medical technologies have to improve further to enable reconstruction of the human body. Highly functional and safe biomaterials can contribute to the development of dental and medical technologies and tissue engineering.
In our laboratory, A) microstructural control of the metallic biomaterials such as Ti and its alloys and Co-Cr-Mo alloys, B) in vivo corrosion behavior of metallic biomaterials with a focus on allergic reactions and C) surface modification using ceramic materials such as calcium phosphate for the biofunctionalization with bone are studied on a basis of the physical chemistry. Some of the research subjects are conducted as under close cooperation with Institute of Development, Aging and Cancer, Graduate School of Pharmaceutical Science and Graduate School of Dentistry, Tohoku University.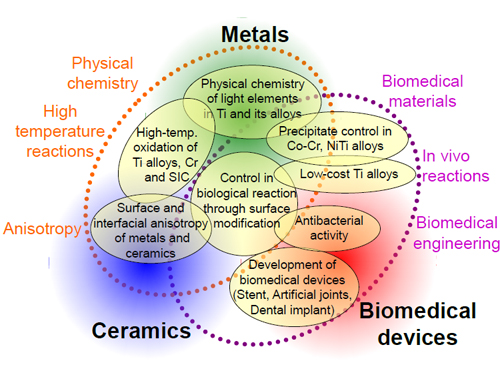 Fig. 2:
Cross sectional SEM images of the amorphous calcium phosphate (ACP) coating film fabricated on titanium implant using RF magnetron sputtering (a) before and (b) after implantation in the femur of Japanese white rabbit. It was observed after the implantation that the adsorption of the ACP coating film with the thickness of 0.5µm and the ingrowth of the new bone.