Graduate School of Engineering
Department of Materials Science
Materials Electrochemistry (Prof. Muto)
Faculty and Staff
Professor

Assistant Professor
Research Topics
Formation of thin films having superior functions and performances
Thin films play an important role in many technological applications including microelectronic devices, magnetic storage media, macro-electromechanical systems (MEMS's), and surface coatings. Our research activity in the field of thin film technology is directed toward developing the following multifunctional thin films: oxide-metal nanocomposite films having extremely high corrosion resistance and self-healing ability, pH-sensitive oxide films having excellent corrosion resistance against both strong acid and alkali, CrN films having extremely high corrosion resistance and no pinhole defect, and MEMS's actuator films having high resistance against environmental degradation.
Development of corrosion-resistant materials for use in energy- and environment-related devices and processes
In order to solve energy and environmental problems, many kinds of technological innovation including development of new materials must be promoted. For instance, container materials having high corrosion resistance are required for the safe storage of methanol and biodiesel fuels, which are sustainable alternatives to fossil fuels but are corrosive to many metals. We are studying corrosion and electrochemical properties of Pb-free metal-coated steels in methanol and biodiesel fuel environments. Our efforts are also directed toward the development of bipolar (separator) plates for stacking polymer electrolyte membrane fuel cells (PEMFC's), reactor materials for supercritical water oxidation (SCWO) of toxic organic wastes, overpack-container materials for the geological disposal of radioactive wastes, and corrosion-resistant Mg alloys for transportation technologies, where significant weight savings are necessary to reduce fuel consumption and emission.
Development of chemical and electrochemical sensors for measurement and control of corrosion environment
Overall corrosion costs in Japan have been estimated to be at least 1.0% of the Gross National Product (GNP) or 5260 billion yens in 1997. However, 25 to 30% of corrosion costs, that is 1300 to 1600 billion yens, can be saved if optimum corrosion management practices are employed. It is therefore important to monitor and control actual corrosion environments and corrosion processes. To realize this type of corrosion control, we have been developing several kinds of chemical and electrochemical sensors. These include an oxygen sensor with a Ag・YSZ composite thin film electrode for decreasing operation temperature, a solid electrolyte pH sensor for use at high subcritical and supercritical temperatures, an external pressure-balanced reference electrode for use in SCWO systems, and an advanced gas sensor based on the ellipsometric response of a porous thin-film receptor.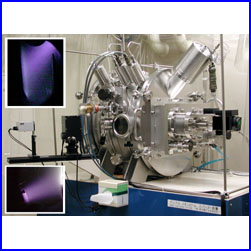 Fig. 1:
Dual ion-beam-sputtering system equipped with ellipsometer for in-situ and real-time analysis of growth process of very thin films