International Exchange
Exchange Activities with POSTECH University, Korea.
About POSTECH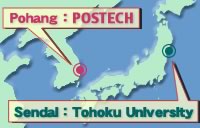 POSTECH (Pohang University of Science and Technology) is located in the harbor city of Pohang, found on the most eastern tip of the country. Pohang is known as an iron manufacturing city with an abundance of iron manufacturing companies, and it is here, at POSTECH, that top-ranking students come from all over to research and study cutting edge technology.
To view POSTECH's website (English), please click here.
What is the exchange between Tohoku University Materials Science and Engineering Program?
In 2006, students from Tohoku University head to POSTECH, in 2007 students from POSTECH head to Tohoku University - it is in this every-other-year pattern that students visit each other's respective university engaging in the exchange program.
The main portion is made up of English language presentations given at research meetings.
Participants are made up of first-year to fourth-year Materials Science and Engineering Program Students.
Students largely do all their own planning and independently engage in the program's activities.
Tohoku University offers financial support to students when they go to POSTECH.
Participating Student Interview
We talked to student participants about the exchange activities with Korea's POSTECH University. Click here for the interview.
The Photo Album of 2007.
POSTECH students stayed in Japan for four days in 2007, from 6/27 (Wed) to 6/39 (Sat). Please have a look at in what manner the exchange activities we conducted. Please click here (Japanese Site).