The best experience of academic practicality
I came to Tohoku University about six months ago as a COLABS (Cooperative Laboratory Study Program) student to conclude my Master's degree in Materials Engineering. I was given the chance to apply for this exchange program by my home university, Politecnico di Torino, which is one of Tohoku University's partners overseas.
Going abroad to enrich my academic background and to focus on research was my dream, and among all the extra-UE destinations I opted for Japan for several reasons.
I was first introduced to Japanese culture by my mother, who learnt the ancient carving technique of xylography during her career as an artist. By listening and looking at her, I got more and more interested in that fascinating world. Moreover, in the last few years I have got to know Japanese pop culture and I have become incredibly passionate about anime by Hayao Miyazaki. Last but not least, Japan has some of the best institutes for materials engineering worldwide, especially Tohoku Universit. In fact, when I applied for extra-UE destinations it was the only Japanese institute Politecnico di Torino was collaborating with for both courses and thesis in my field of study.
What immediately impressed me the most here was the focus on practical research. When it comes to facilities, equipment and materials availability, Tohoku University offers us an incredible wide range of possibilities. Since it is well-funded, we have the chance to go through many different experiments to carry our projects out. This is one of the main advantages and benefits of being a researcher at Tohoku University.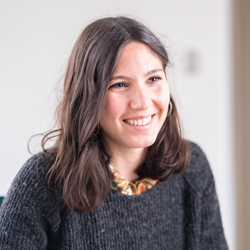 Moreover, we have the chance to customize our study plan in terms of time management and topics. In many cases, courses closely linked to our experimental projects are available and this allows us to design our whole curriculum for a better research. For example, during the first semester I attended three courses, for a total amount of six hours per week. Hence, we can intensively focus on research, which is a significant difference from many universities in Europe.
Furthermore, we can daily work with top level professors. Mr. Yamamoto, Mr. Morimoto and Mr. Mogami are always helpful and ready to support us in the laboratory, and they are also open to spend time with us off campus for eating and celebrating Japanese traditional festivities.
All of these aspects are turning out to be incredibly beneficial for my research. Here at Tohoku University I am focusing on materials for biomedical applications. More specifically, I am trying to tune the stiffness of collagen-based hydrogels in order to make their mechanical properties as close as possible to those of biological tumoral tissues. By culturing cells on these gels we can observe the dependence of their growth and development on the properties of the substrate, hopefully contributing to the progress in the field of tissue engineering. This is really encouraging and inspiring for me.
Nevertheless, the essential nature of this academic practicality requires us to stand on our own. After having been assigned a project, we are free to deal with it on our own way. This means being responsible for everything that comes afterwards, from reading academic papers to get to know the topic in deep, to thinking individually, drawing conclusions by ourselves and planning the following experiments.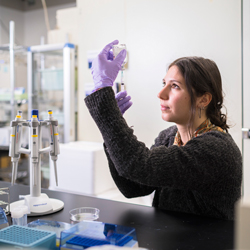 I wasn't used to this kind of approach but now I find it very challenging and stimulating. Having said that, I feel I am gaining precious experiences every day. Through countless trials and errors, I am improving my skills, enriching my knowledge as a researcher and getting mental resilience to tackle challenging projects. Furthermore, I have now fully realized how useful my academic background is. The theoretical knowledge I acquired in Italy is turning out to be an indispensable solid foundation for the practical research that I am running here and I am thankful for coming from such a high level university.
Personally, I hope this experience will shed light on my attributes and interests to see where my future really lies. Along with the other students in my lab, I am doing my best to achieve good results in my field, being aware that I am conducting a research not only about materials but also about myself. For both purposes, I am sure that whole life experience here will be incredibly valuable.
(Conducted 2019, February)