Solid foundation called tradition and history
I am now taking a Ph.D. course at Tohoku University, under a "Research Fellowship for the Young Scientist" program organized by the JSPS (Japan Society for the Promotion of Science). And this story goes back to my first experience here.
Three years ago, when I was a master's course student of University of Science and Technology in Beijing, I was granted the opportunity to study here through a student exchange program. And I was hugely impressed by the academic environment as well as the standard of research.
At Tohoku University, you can always access to advanced equipment easily, design your own experiment freely, and also conduct intensive research and experiment all by yourself. Also, we can discuss the research with top-notch professors and ask for useful advice on a daily basis. Though I had already known that Tohoku University is highly ranked in the development of metals and alloys, the overall standard was truly impressive and very different from those in China.
In China, we can design a research plan. But usually, we don't conduct actual research by ourselves because the companies or manufactures mainly handle it. It is true that we can subsequently obtain data of the experiment, but the process is something unknown. Wheres at Tohoku University, you can have all the exact data on hand and check every detail of the actual experiments. That's was the part of the reasons why I had conducted good researches and wrote some papers during my one year of the first study.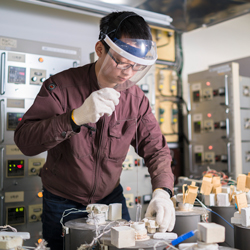 So, when going back to China and completing my master's course, I simply thought like "Why not going back to Tohoku University and taking Ph.D. degree over there?"
That should make perfect sense to continue my research in my field. Especially for this second stay, I have been focusing on the development of new alloys with new functional properties in such small scales like nanometer, while receiving support from JSPS. This is quite an exciting challenge as no one has ever tried before.
Of course, finding something new is always difficult and never easy. Typically, you go through experiments a hundred times and can succeed in only once. Trying to make a breakthrough is a pretty laborious and time-consuming process as well.
The same can be said about applying for the fellowship. In my case, it took approx three months just to concrete the research plan, and we had to wait for another six months to receive the final result. Also, you have to be unique and original with your idea, plan, and approach. Otherwise, it will be difficult to receive fellowship because the competition is incredibly tough even among the Japanese applicants, not to mention for foreign researchers.
But thanks to Tohoku University and huge support from professor Kainuma, my plan was accepted. And after completing a Ph.D. program, I hope to continue my research as a Postdoc, at this Tohoku University. Because like I mentioned above, even in China, I find no other institute like this.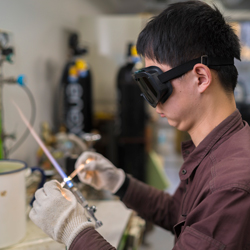 For the past 5 to 10 years, China is one of the economic power in the world and concentrating resources on technical research. But Japan had already established the same status 30 or 40 years ago. And up until now, Japan has been building up a strong basis in the research and development of technology.
Research is always a long period process and not a kind of thing we can make it in the short term because it needs the accumulation of knowledge, skill, and experience. Also, creativity and patience are vital for cutting edge technology. In this sense, I believe that Tohoku University is the best example of Japan's high standard of technical research and its long history and tradition.
(Conducted 2019, February)