Deeper into exciting intellectual adventures
My first encounter with Tohoku University was in 2012 when I was an undergraduate student at Purdue University in the United States. I joined a program called JYPE (Junior Year Program in English) run by Tohoku University and was invited to Professor Nitta's lab.
Looking back on it now, that was a big turning point for me in two ways.
First, with respect to my academic journey, up until that point, I was studying only through coursework and hadn't experienced real research. Likewise, my undergraduate studies were a very broad look at materials science. So, although I had always been interested in topics such as science, physics, and engineering, I wasn't entirely sure what kind of academic career I would have in my future.
However, Professor Nitta introduced me to the field of spintronics, which I had never heard of before, while allowing me to get a taste of some real research. Through these experiences, I got intrigued by spintronics and started thinking about continuing my studies as a postgraduate.
My first study at Tohoku University was an eye-opener for me in another aspect as well. From childhood, I had been interested in Japanese culture through the influence of a family friend from Japan. In high school, I took a Japanese language course voluntarily following my interest. But I had neither been to the country nor even been to the abroad before. In other words, my first visit to Japan was my very first experience travelling outside the United States. And subsequently, that visit to Japan naturally inspired my current love for traveling all over the world.
So, after going back to Purdue and finishing my bachelor's courses in material engineering, I joined a program called FAME (Functionalized Advanced Materials Engineering) to take a master's course in Europe. I studied at Grenoble Polytechnic Institute in France, the Technical University of Darmstadt in Germany, and Imperial College in the UK.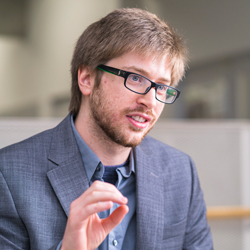 Still, the intellectual impact I had received from my first study at Tohoku University remained strong, and I wanted to come back to Japan to obtain my PhD degree. Therefore, I contacted Professor Nitta again to ask him about the availability of a PhD position. He kindly led me to another program run by Tohoku University called GP-Spin (Graduate Program in Spintronics), and allowed me to start my second study here. I am also expecting the GP-Material Science program in our department to be an excellent opportunity for prospective PhD students.
Returning to Tohoku made perfect sense to me for many reasons.
First and foremost, Tohoku University is playing a leading role in the world in material science. Especially regarding spintronics, Professor Nitta's lab is one of the best research facilities in the field. Also, I was quite fascinated by the academic culture. Of course, this university maintains a high standard in theoretical studies, but it also places a strong emphasis on research as well. In fact, even fourth-year bachelor's course students can join a lab and research with sophisticated equipment and various materials.
This is quite a unique tradition of Tohoku University, as my own experience studying in the United States and Europe was very different..
This kind of environment is really beneficial for those interested in research. I'm specifically studying a "platinum cobalt bilayer system". This work has a huge potential in innovating current computer memory systems, but also requires advanced facilities, good materials, and an ideal research environment. And needless to say, we also have to work directly with top researchers and other experts of material engineering to find a technical breakthrough. In this respect, Tohoku University has everything.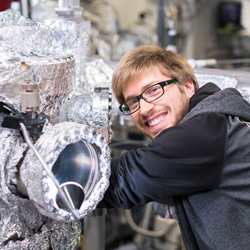 Overall, Tohoku University has had a big impact on my life, and continues to do so. Since I started my Ph.D. course here, I am feeling the scope of my intellectual interests has been growing. Recently, I enjoy watching videos on math and physics like astrophysics or quantum mechanics. Though they are not directly related to my field, I just find them quite exciting. The deeper you go into your field of science, the better you can understand different subjects and get a bigger picture to see connections between different fields. And I am thriving on this attractive intellectual journey.
(Conducted 2019, February)